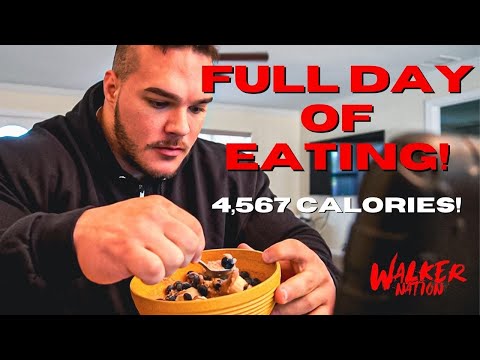 Meal One (Pre-Workout)
Chicken
Onions
Peppers
75 grams of grains
80 grams banana
100 grams blueberries
20 grams almond butter
One hour after eating, Walker takes more supplements. This time it is 20 grams RAW AA, RAW BUMP, RAW Intro Workout formula, and creatine.
Meal Two (Post-Workout)
Chicken
2 eggs
Meal Three
Steak
Jasmine rice
Onions
Peppers
2 eggs
Meal Four
Chicken
Peppers
Onions
Jasmine rice
Cinnamon
Garlic spices
Meal Five
Chicken
Peppers
Onions
Jasmine rice
Meal Six
Steak
Onions
Peppers
Brownie
Almond butter
Before the night is over, Nick Walker takes RAW sleep, magnesium, Pepsin GI, vitamin C, and Glucose all after his last meal. Throughout the day, Walker admitted that it is a bit tough around meal five. This is why he likes to use different spices to shake things up a bit. This will avoid getting bored with the same blend of spices and flavors.
Walker has three consistent parts of his meals — rice, onions, and peppers. He believes that cream of rice is especially optimal for meals. Walker also admits that the peppers and onions are an important way to flavor proteins.
Throughout the video, Nick Walker lets viewers into what he eats and how he prepares his meals. It is always interesting to see how the best of the best prepares and trains on a day-to-day basis. Walker is coming off an enormous year and there could be plenty more to look forward to in the future.